Underwater Hockey Gloves
Gloves are essential in protecting your knuckles from bangs and scrapes during a game. They are made from fabric gloves with thick layers of silicone applied on the tops of the fingers and knuckles. Gloves come in different sizes and left/right-handed versions to suit all players.
Slovenian Euro Glove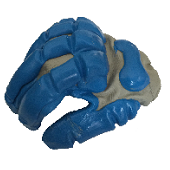 A light weight glove which has good protection without all the added bulk, this allows for fast movement of the hand and change of grip. The base glove is stretchy and gives good grip.
---
Bony Glove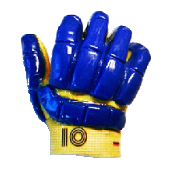 Sadly, this glove has now ceased production. The Bony Glove is a real favourite amongst our players. This glove features a heavy-duty nylon base fabric with a large elastic wrist band and is completed with high quality strategically placed silicone rubber for hand and finger protection.
---
St Albans Underwater Hockey Club is not affiliated with any manufacturers or retailers. This article represents the impartial opinions of the club members and is to be treated as a rough guide.