Nautilus 2015 Ponds Forge, Sheffield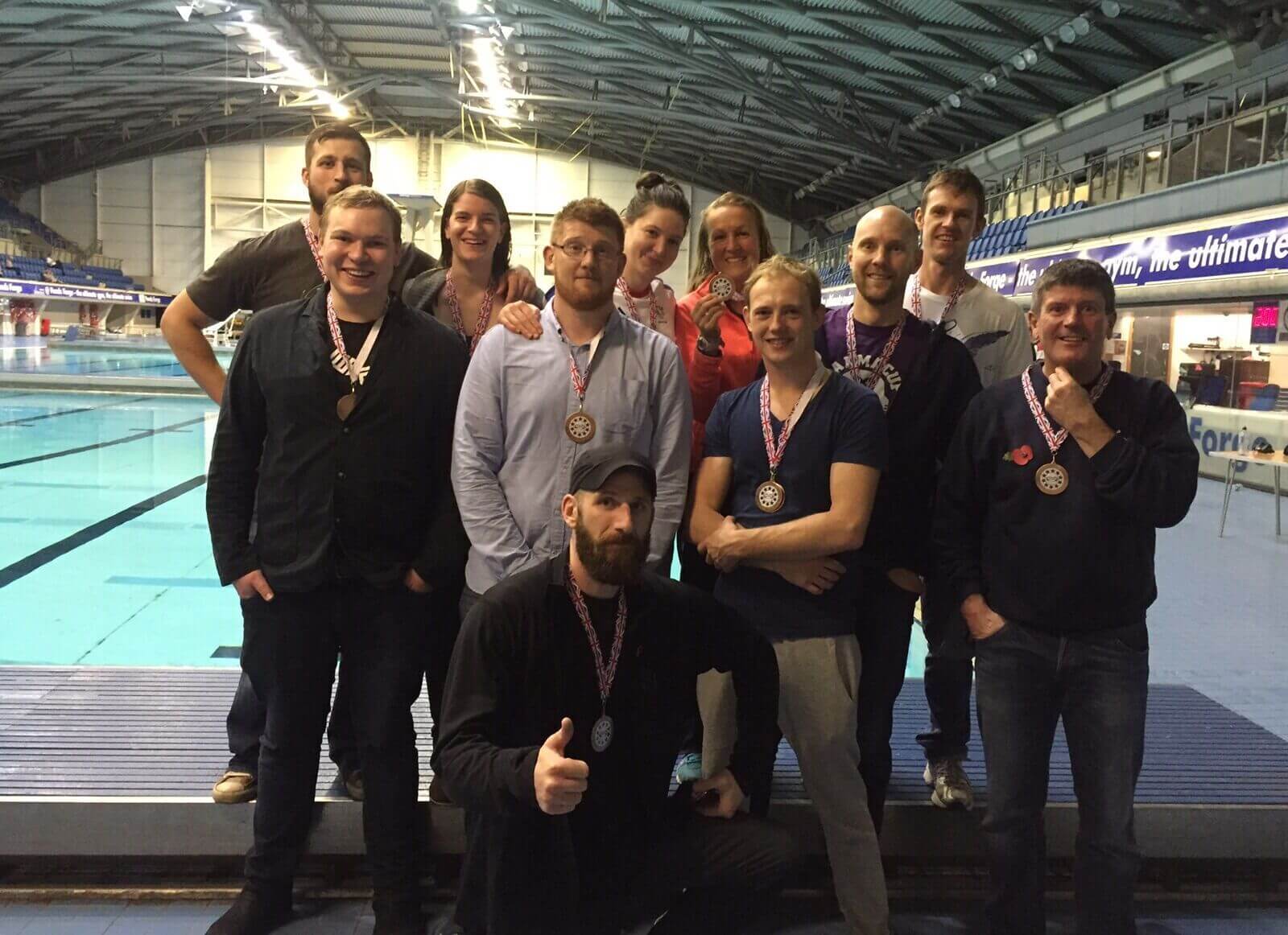 Over Remembrance Sunday, the St Albans Underwater Hockey team once again competed in the British Octopush Association's Nautilus Competition at Ponds Forge, Sheffield. This annual national underwater hockey event attracted 43 teams from across the UK and Ireland, from Plymouth to the Orkney Isles.
St. Albans finished in a very credible 17th ranked position after having their best tournament for years, winning five out of six games in division 3B and placing them in the top spot. This led to them securing a place in the play offs with the top two teams from division 3A, where they drew Pembroke, the team to beat to ensure promotion to the second division. Fatigue however had set in and they narrowly missed out on promotion to division 2 in a worthy Welsh onslaught.
St. Albans tournament kicked off bright and early at 8.38am Sunday morning with a comfortable win against Guildford. The second match against Sussex was more of a struggle, as we settled in to the pool depth and positioning. They managed two great goals from captain Chris Clarke and Dan Hall. By their third game they were in full stride and notched up a very convincing 11-0 win against Team Midlands with hat-tricks from both Kevin Holland and Vicki Risianova. With four wins under their belt, they went into the last game with high spirits and emerged with a hard earned 5-1 victory against local rivals West London. This put them top of the division and into the play-offs against Pembroke.
The match started with Pembroke scoring the first two but St Albans fought back with a goal. The 30 minute game was tough going, legs were getting tired and they were already suffering the loss of their centre back Mark Rogers to an injury in the previous game. The final result was 6-2 to Pembroke. Despite losing out on promotion to the second division, they left buoyed having won division 3B. The team thoroughly enjoyed the event.
St. Albans Chairman Kevin Holland was ecstatic saying "This year we were particularly proud of our newer members of the team, who each put in astonishing performances. Our new Captain Chris Clarke led the team in one of the most successful for years, supported by Vice Captain Simon Tucker and Team Manager Andy Higgs. This tournament result has inspired us and planning has already begun for Nautilus 2016!"
For more information please contact Kevin at St Albans Underwater Hockey Club.